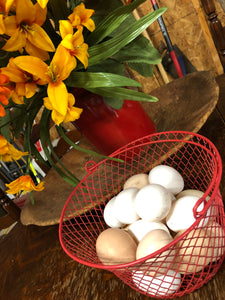 Delicious organic eggs from happy free-range chickens near Pensacola are available (12 count) for pickup on Friday each week at our downtown Pensacola retail location at 1737 N Davis Hwy — located inside The Parlor Room.
Easter egg (multiple colors) yard eggs are available. Just click to purchase from Family Orchards and we'll be in touch about pickup.
We hope you love our eggs as much as we do! Thanks for your order and telling folks.