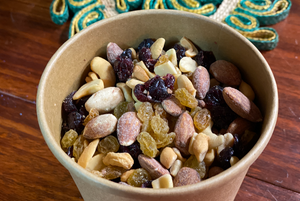 Our "world-famous" coconut almond nut mix is so good! You can serve it as a snack at cocktail hour or gift it to friends and family.
Comes in a gift-wrapped 1.5 pound (26 oz) recyclable carton. 
Keep some for yourself or give it as a gift! We love it because it's a healthy blend of coconut-toasted almonds, roasted cashews (low salt), sweet golden raisins, and dried cranberries — which makes a balanced snack to give you energy and keep cravings away throughout the day.
Enjoy these lightly-sweet flavors at Family Orchards available for a limited time!